Discover Woodstock, GA: A Thriving City with Townsend Realty Group
Welcome to Woodstock, Georgia, "A City Unexpected"! Nestled just 30 miles north of Atlanta, Woodstock has grown into a vibrant community with a thriving business environment, world-class parks, and a diverse range of housing options. In this comprehensive guide, we'll explore everything you need to know about Woodstock, from its two main Woodstock GA zip codes – Woodstock GA zip code 30188 and 30189 – to its educational institutions, recreational amenities, and more. Let's dive in and discover what makes Woodstock a fantastic place to live, work, and play.
Key Takeaways
Woodstock, GA is divided into two ZIP codes (30188 and 30189) with a population density of 1,703.16 persons per square mile
The real estate market in Woodstock provides diverse housing options for its residents and offers access to Atlanta's resources while preserving its unique charm as a suburban community
Postal services are available through two post offices offering reliable mail delivery at convenient hours
Woodstock ZIP Codes Overview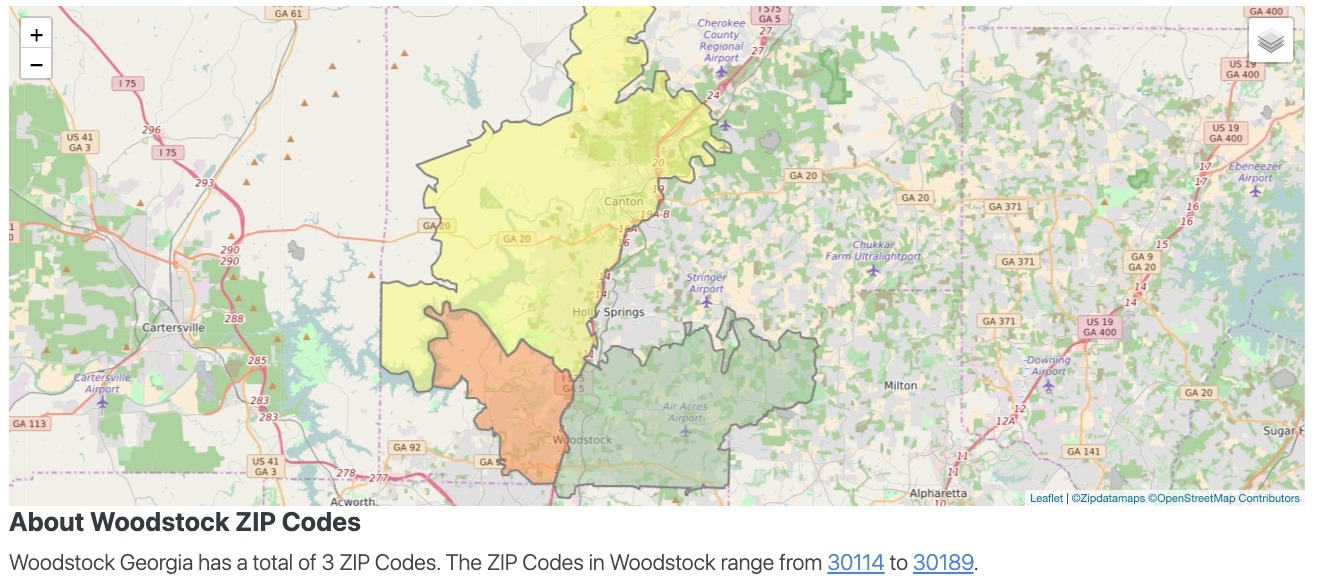 Situated in Cherokee County, Woodstock, GA, is divided into two primary ZIP codes: 30188 and 30189. These ZIP codes play a significant role in the city's identity and its residents' lives, as they help determine mail delivery, services, and even business location. According to the US Census Bureau, Woodstock's population in 2020 was 35,065, with a population density of 1,703.16 persons per square mile. The city's diverse community is reflected in the demographics, with a median age of 34 years and an average family size of 2.77 persons.
The rich history of Woodstock dates back to the early 1830s when it was established as a small farming community, followed by its designation as a railroad stop in the 1870s and official incorporation in 1897. Today, Woodstock is part of the bustling Atlanta metro area and proudly boasts over 2,814 businesses, contributing to the local economy and providing ample employment opportunities in downtown Woodstock. The city's geographical location, nestled between Atlanta and the southern tip of the Appalachian Mountains, offers residents access to both urban amenities and natural attractions like Kellogg Creek.
Detailed Look at 30188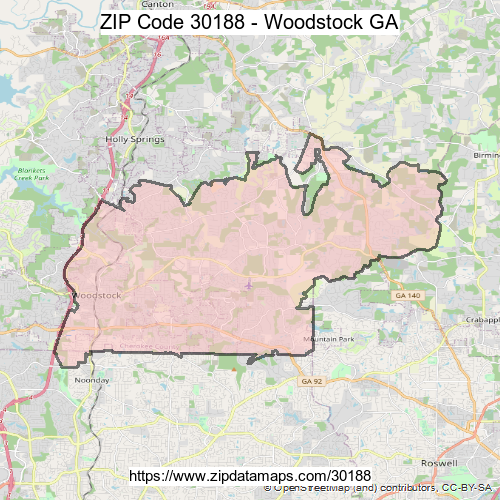 The 30188 ZIP code, located in Woodstock's heart, is a thriving community that shares its borders with the neighboring city of Holly Springs. With a population of 57,045, this ZIP code is a bustling hub of activity, offering residents a variety of housing options, including single-family homes, townhomes, and condos.
Approximately $231,000 is the median home value in Woodstock, making it an attractive option for families and individuals seeking an affordable and comfortable lifestyle.
Demographics of 30188
Life in this part of Woodstock is depicted as a diverse and vibrant picture through the demographics of 30188. Per the United States Census Bureau The population breakdown is as follows:
74.6% White
10.2% Hispanic or Latino
7.6% Black or African American
3.5% Two or more races
3.0% Asian
1.1% Other races
Men make up 48.17% of the population, while women represent 51.83%.
The median household income in this area stands at $87,911, surpassing the national average and showcasing the thriving economy and job opportunities available in Woodstock.
Real Estate and Housing in 30188
A diverse range of housing options is offered by the real estate market in the 30188 ZIP code catering to various budgets and preferences. Per information from the local Multiple Listing Services (MLS), single-family homes, condos, and townhomes are prevalent in the area, with the mean abode cost standing at $425,000. Per the United States Census Bureau, homeownership is a popular choice, with an estimated 73.7% of residences being owned and 21.6% rented. The area has also seen a surge in new housing developments, providing more options for families and individuals looking to call Woodstock home.
In recent years, the real estate market in 30188 has experienced notable changes. Here are some key statistics:
The average days on the market have risen to 28 days in September 2023, a 4.1% increase from the previous year.
The average house price last month was $491,000, indicating a 15.5% surge since last year.
Home values in the 30188 ZIP code have also experienced a 2.5% growth over the past year.
These trends make the 30188 land area an attractive investment opportunity for potential homeowners.
Detailed Look at 30189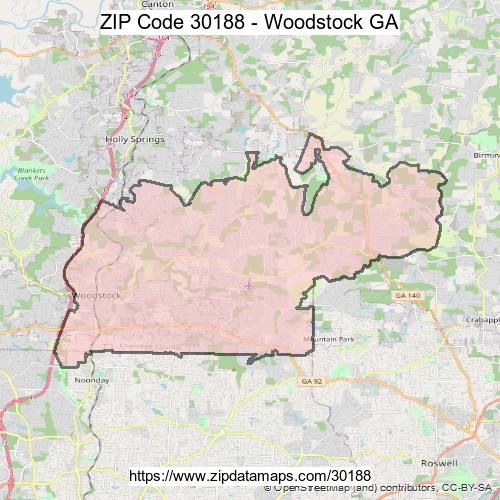 Per the United States Census Bureau, Cherokee County, within Woodstock, Georgia, houses the 30189 ZIP code, and is home to an estimated population of 40,737. The area offers a variety of housing options, such as low-income housing, houses for rent, and apartments for rent, catering to the diverse needs of its residents.
Per local Multiple Listing Services, the 30189 ZIP code, has an average housing cost of $464,000, and provides a range of options for those seeking a comfortable and affordable lifestyle in Woodstock.
Demographics of 30189
Understanding life in this part of Woodstock is largely influenced by the demographics of the 30189 ZIP code. The median household income in the area is $92,935, and the average household size is 2.6 people. The population growth rate in the 30189 ZIP code stands at a steady 0.6%, reflecting the area's ongoing development and attractiveness to new residents.
While the demographic breakdown by age, gender, and race is not explicitly available for the 30189 ZIP code, it is essential to note that Woodstock as a whole is known for its vibrant community and thriving economy. The city's proximity to Atlanta and its position within the bustling metro area provide ample opportunities for residents in both work and leisure. This data was obtained by the United States Census Bureau.
Real Estate and Housing in 30189
A diverse array of housing options is offered by the real estate market in the 30189 ZIP code, including single-family homes, townhouses, and apartments. The mean residence price in the area is $464,000, providing potential homeowners with various choices when it comes to finding their ideal home. Single-family homes, townhouses, and apartments are commonly found in the 30189 ZIP code, catering to a wide range of preferences and budgets.
The homeownership rate in the 30189 ZIP code is estimated to be 65.0%, reflecting the area's thriving real estate market and commitment to providing residents with a comfortable and stable living environment. As Woodstock continues to grow and develop, the 30189 ZIP code remains an attractive option for those seeking a dynamic and diverse community in which to live.
Postal Services in Woodstock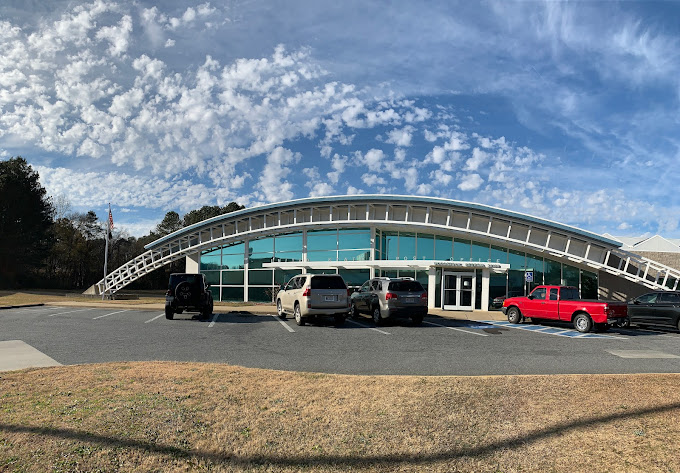 Two post office locations serve Woodstock, Georgia to cater to the mailing needs of its residents. The first post office is situated at 225 Parkway 575, Woodstock, GA 30188, while the second is located at 8612 Main St, Woodstock, GA 30188. These post offices provide a range of essential services, including the purchase of stamps, sending of mail, and other postal services. Both post offices offer retail hours, last collection hours, and lobby hours for the convenience of Woodstock's residents.
The operating hours of the post offices in Woodstock are Monday through Friday from 8:00 am to 5:00 pm and Saturday from 8:30 am to 12:00 pm. The post office located on Parkway 575 offers extended hours of operation, ensuring that residents have ample opportunities to access postal services when needed. Woodstock's post offices, which provide efficient and reliable postal services, play a vital role in maintaining the smooth functioning of the city's communication and logistics infrastructure.
Woodstock's Connection to Atlanta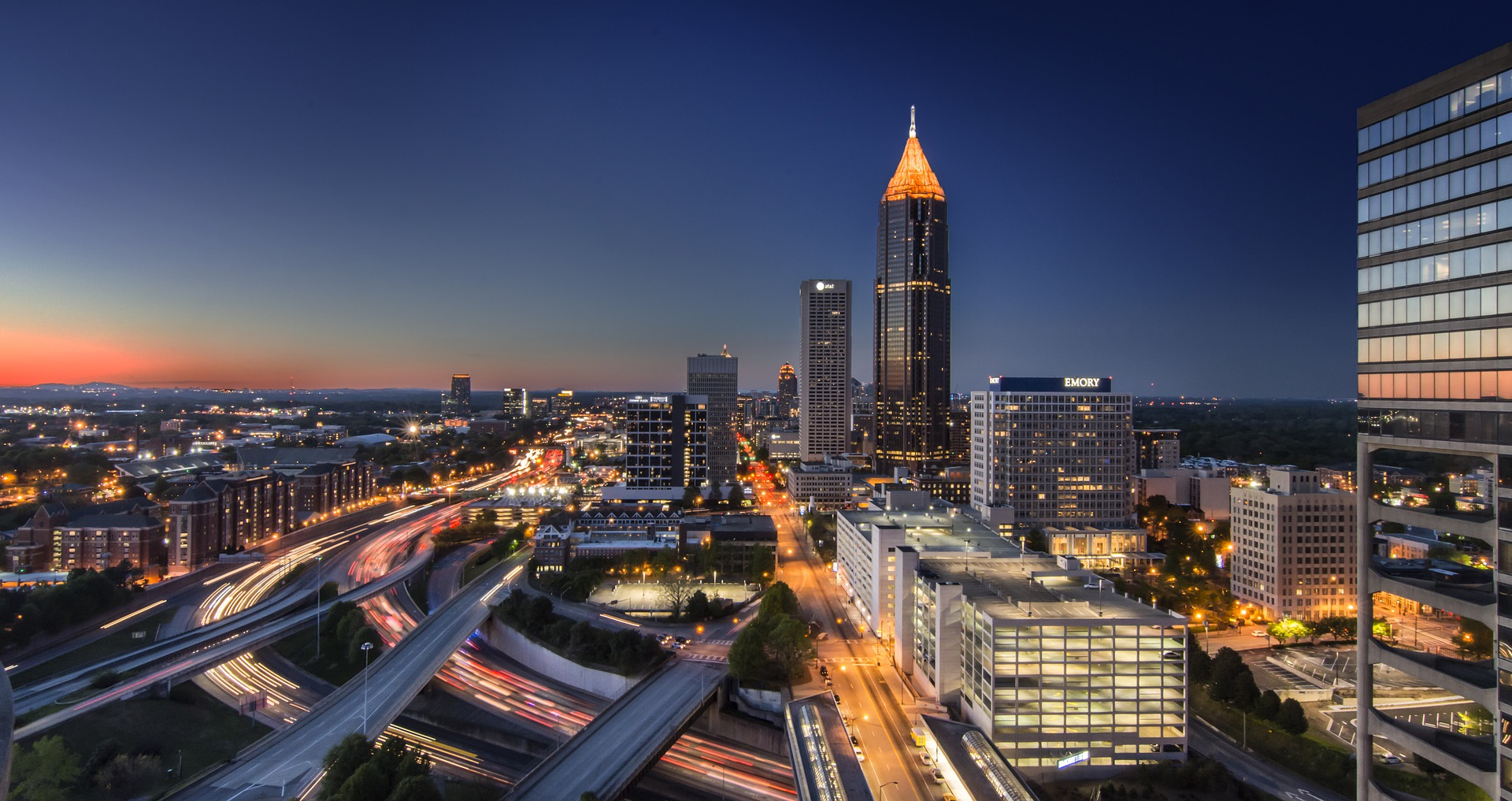 The growth and development of Woodstock is greatly influenced by its proximity to Atlanta, which is just 30 miles away. Being part of the Atlanta metropolitan area offers Woodstock residents access to a larger market, increased employment opportunities, and a wealth of resources and amenities. This connection to Atlanta also facilitates business growth and development within Woodstock, as companies can take advantage of the larger customer base and talent pool that the metro area provides.
The close-knit relationship between Woodstock and Atlanta benefits residents in several ways:
It provides additional opportunities for economic contributions to the local community.
It fosters a symbiotic relationship between the two cities.
Woodstock can reap the benefits of its big-city neighbor while maintaining its unique charm and identity as a thriving suburban community.
Education and Schools in Woodstock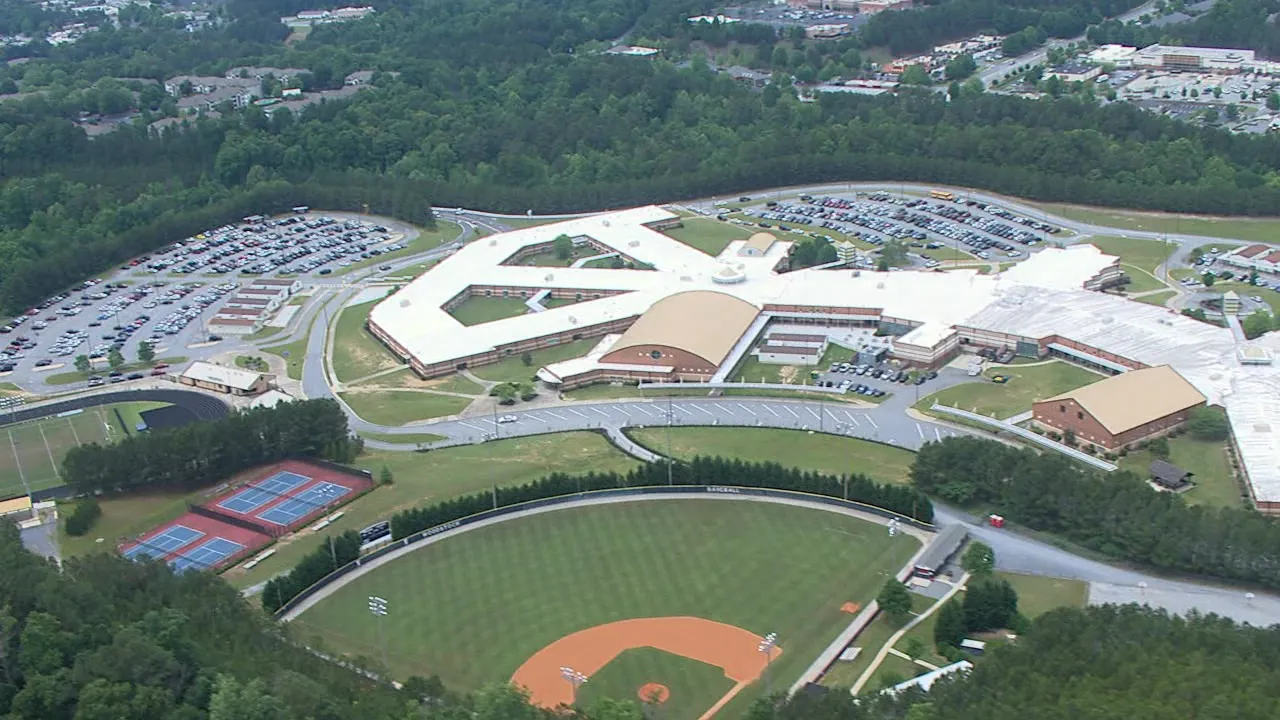 A variety of educational institutions and opportunities, including both public and private schools, are found in Woodstock. The city boasts several highly-rated public schools, such as Bascomb Elementary School, Arnold Mill Elementary School, and Mountain Road Elementary School. In addition, Woodstock offers a range of private schools, including The Walker School, Mount Paran Christian School, Avery Montessori Academy, Holdheide Academy, The King's Academy, Lyndon Academy, St Francis Day School, Eaton Academy, North Cobb Christian School, and Dominion Christian Schools.
With an emphasis on providing quality education to its residents, Woodstock ensures that students have access to the resources and support they need to succeed academically. The city's diverse range of educational institutions caters to various learning styles and needs, making Woodstock an attractive option for families seeking a well-rounded education for their children.
Recreation and Amenities in Woodstock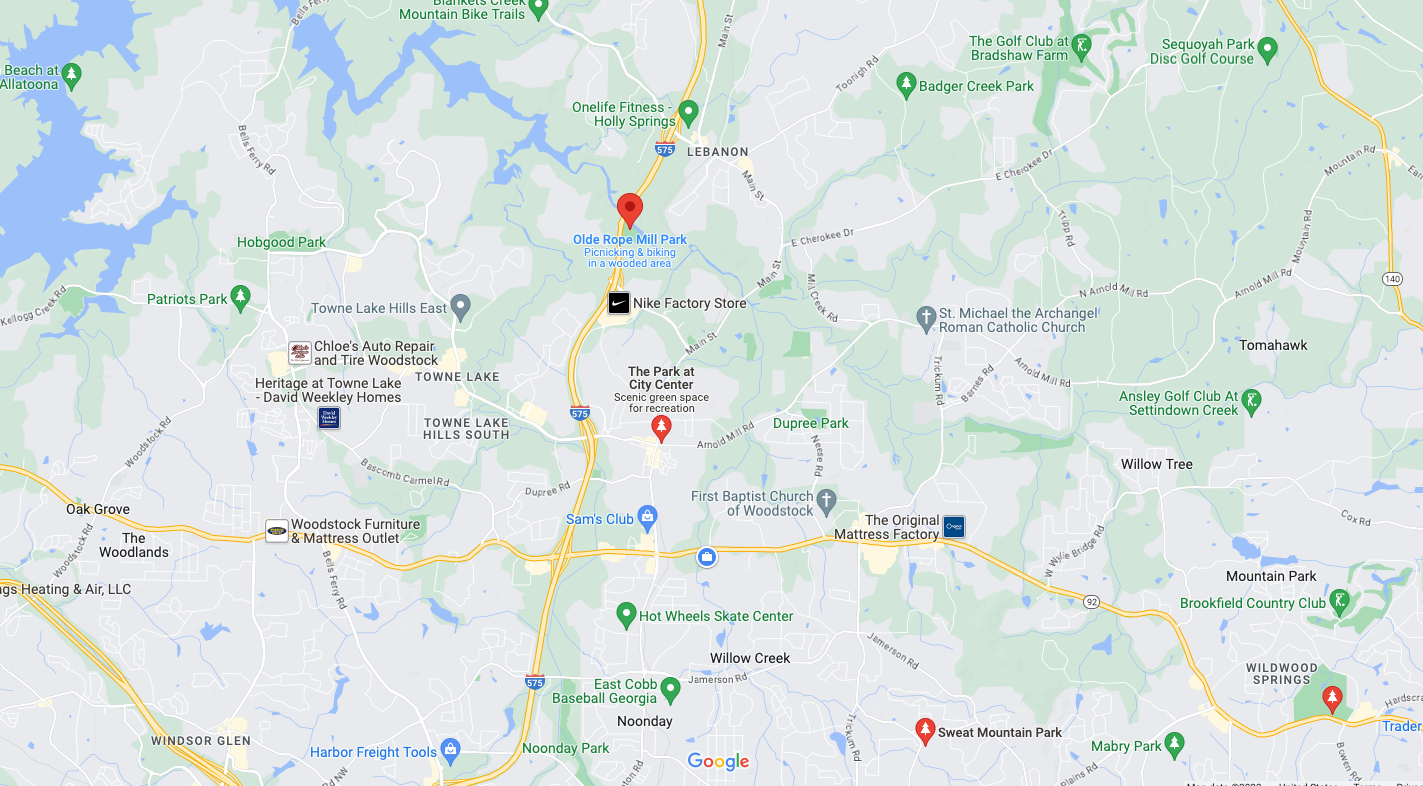 An abundance of recreational facilities, parks, and amenities are offered in Woodstock for residents and visitors to enjoy. The city's Greenprints Alliance promotes the development of green infrastructure, ensuring that Woodstock remains a sustainable and eco-friendly community. Some of the notable parks in the area include:
These parks provide a range of outdoor activities and spaces for relaxation.
The city's parks and recreational facilities offer all the amenities you could ask for, such as:
Tennis courts
Basketball courts
Baseball fields
Softball fields
Soccer fields
A gymnasium
An indoor track
Fitness equipment
An indoor pool
A whirlpool
A dry sauna
Racquetball courts
Pickleball courts
Tanning facilities
From organized sports to leisurely strolls in the park, the Woodstock area provides its residents with ample opportunities to stay active, healthy, and engaged in their community. In fact, Woodstock City is known for its commitment to promoting a healthy lifestyle for all its inhabitants.
Woodstock's Business Landscape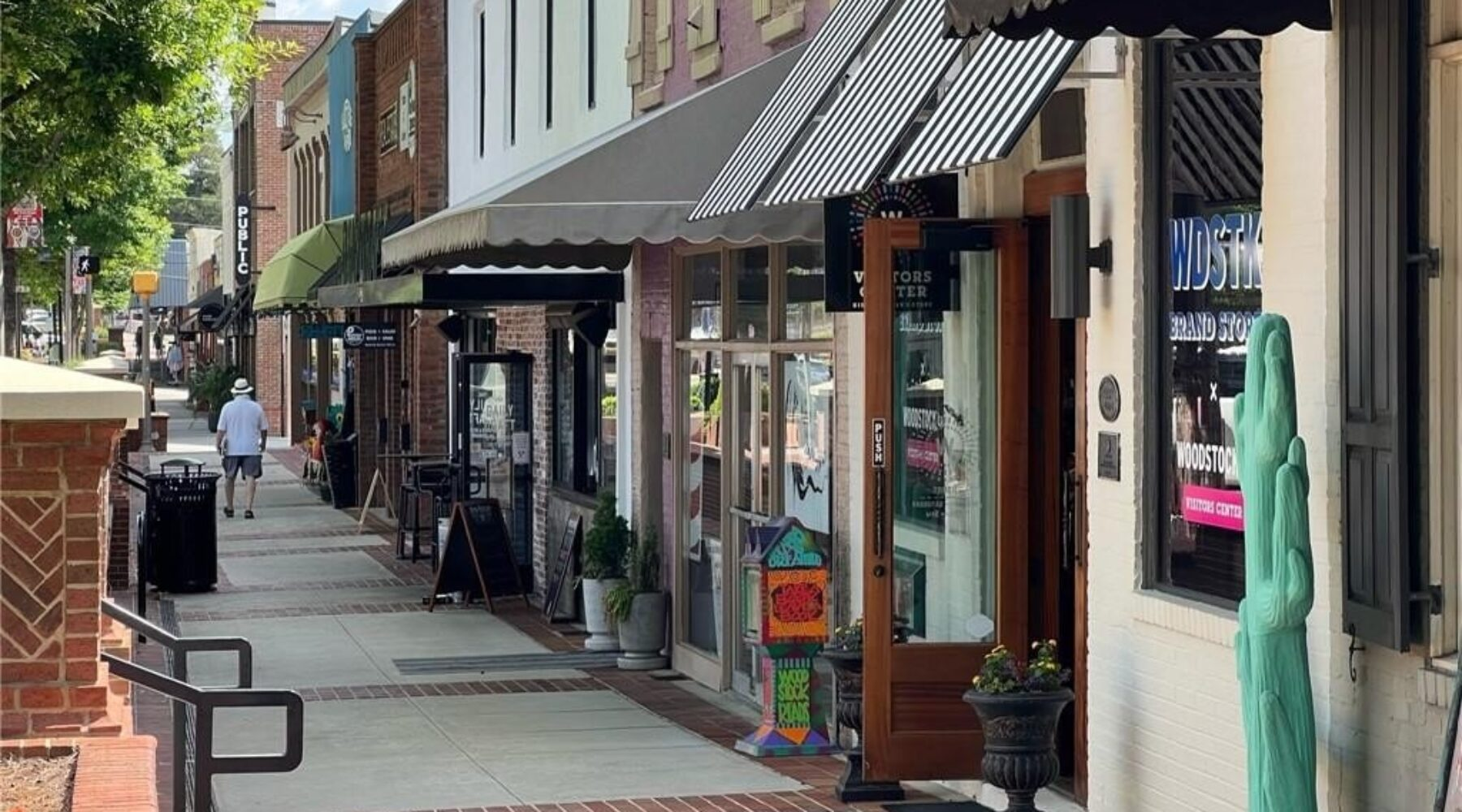 A diverse and thriving business landscape characterizes Woodstock, Georgia, with major industries spanning advanced manufacturing, commercial development, corporate operations, film and media, and information technology. The city is home to over 10,797 businesses, providing a robust economy and a wide range of employment opportunities for its residents. Some of the leading employers in Woodstock include Medical Imaging Solutions USA, Primus Builders, Catavolt, Northside Hospital Cherokee, Inalfa Roof Systems, Pilgrim's Pride, Chart Industries, Inc., Piolax Corporation, and Universal Alloy Corporation.
With a mean income rate of $92,648, Woodstock offers its residents:
A stable and prosperous environment in which to work and grow professionally
A connection to Atlanta and the larger metro area, further strengthening its business landscape
Attraction of new businesses and fostering economic growth within the community
Using ZIP+4 Codes for Accurate Mailing
The United States Postal Service (USPS) uses ZIP+4 codes as an extension of the standard five-digit ZIP codes. The additional four digits, appended after a hyphen, help identify a specific geographic segment within the delivery area, such as a city block, group of apartments, or post office box. The fastest and most accurate mailing possible is ensured when the complete ZIP+4 code is utilized when sending mail through the USPS, as it minimizes the need for human intervention in a mail center.
Several advantages are provided by using ZIP+4 codes in Woodstock, including faster deliveries, reduced misdeliveries, and cost savings. By streamlining the mail delivery process and improving accuracy, ZIP+4 codes play a crucial role in maintaining efficient and reliable mailing services for Woodstock residents and businesses alike.
Summary
In conclusion, Woodstock, Georgia, is a thriving city that offers its residents a diverse range of housing options, educational institutions, recreational facilities, and business opportunities. With its two main ZIP codes, 30188 and 30189, Woodstock caters to the unique needs and preferences of its residents while maintaining a strong connection to its neighboring city, Atlanta. As a consistently rated top place to live, work, and play, Woodstock's dedication to providing a high quality of life for its residents is evident in every aspect of the city. Discover the charm and allure of this "City Unexpected" for yourself – you won't be disappointed.
---
Frequently Asked Questions
Is Woodstock GA a town or city?
Woodstock is a City in Cherokee County, Georgia. It was officially incorporated in 1897 and now has over 30,000 residents spread across 12 square miles.
Is Woodstock GA a good area to live in?
Woodstock is a great area to live in due to its dense suburban feel, parks and ownership of homes. Located conveniently near the larger city of Atlanta, Woodstock also offers the best of both worlds with its slogan, "A City Unexpected."
What is the difference between the 30188 and 30189 ZIP codes in Woodstock?
The 30188 and 30189 ZIP codes in Woodstock represent distinct areas with distinct demographic characteristics, housing options and amenities.
Are there any top-rated schools in Woodstock?
Yes, Woodstock offers several top-rated schools, including public and private options. Bascomb Elementary School, Arnold Mill Elementary School, Mountain Road Elementary School, The Walker School, and Mount Paran Christian School all boast excellent ratings.
What recreational facilities and parks are available in Woodstock?
Woodstock offers plenty of recreational facilities and parks to enjoy, including Olde Rope Mill Park, Little River Trail, The Park at City Center, Cherokee Mill Park, and Dupree Park with sports fields, playgrounds, and walking trails.
---
About Townsend Realty Group
Tom Townsend: Your Accomplished Real Estate Expert
Tom Townsend is a highly regarded figure in the world of real estate, bringing over two decades of industry experience to the table. Based in Woodstock, GA, Tom's career trajectory showcases his unwavering dedication and continuous pursuit of excellence.
Tom's journey in real estate commenced in 2002 when he ventured into the industry as an investor. His passion for this field prompted him to acquire essential certifications, including an Appraisal license and home inspection certification. These qualifications set the foundation for his profound understanding of real estate intricacies.
In 2015, Tom transitioned into the realm of real estate sales, a move that has seen him excel as a professional with a keen eye for market dynamics and trends. His deep knowledge and insights have earned him recognition and respect among his peers.
Throughout his career, Tom Townsend has not only demonstrated expertise but has also received certifications, awards, and industry recognition that highlight his authority in the field. His commitment to excellence has been rewarded with accolades that underscore his proficiency.
With Tom Townsend as your real estate advisor, you benefit from a wealth of experience and a track record of success. Whether you're a buyer, seller, or investor, his expertise ensures you receive top-notch guidance and support.
Tom Townsend's certifications, awards, and industry recognition make him the ideal partner for navigating the complexities of the real estate market. Contact him today to leverage his wealth of experience and expertise for your real estate needs.


---
Have More Questions? Contact us today at 770-280-4560.